Global Technology and Local Service
NEWS UPDATE: After two years of cooperation in North America Pi has formally joined up with Kuttner TD Co for the supply of new Blast furnace and stove valves. Their core capabilities are the supply of tailor made, high grade and innovative industrial valves for blast furnaces and the related facilities. This guarantees a long service of our products and high performance of your facilities.
In addition TD Co manufacture the ECO two hopper BF top and Top pressure recovery turbines.
Please direct all inquiries for both technologies to david.marshall@pionline.ca
Specialty Valves for the metals industry
Refractory lined gate valves for high temperature applications
Wedge/Gate valves
Double eccentric valves
Burners and ignition systems
Vacuum and steam valves for vacuum degassing systems
Lever valves for gaseous media
Goggle, cold blast, hot blast, back draft, relief, equalizer, bleeders, coke, BF, LD, Nat. gas valves plus many more.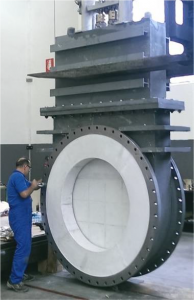 Our certified CMRP specialist team support this and other equipment with technical services that include Reliability Centered Maintenance (RCM) techniques to constantly increase the expected "lifetime in service" duration, saving costs and unplanned outages.
Our Sarnia Ontario based "GREAT LAKES OEM reliability focused repairs" is a certified service that includes valve repairs, replacement seals, gaskets etc. for all valve types to exacting specifications.